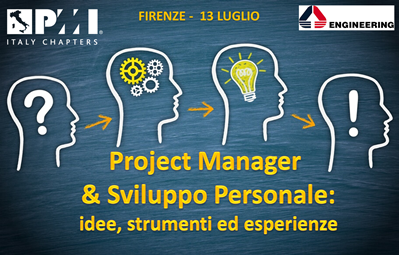 Project Manager and Personal Development: ideas, tools and experiences
Florencia, viernes 13 de julio de 2018
2.00 a 5.30 p. M.
en
Hotel Londres
Via Jacopo da Diacceto 16/20, Florencia
PMI® ITALY CHAPTERS, in collaboration with Engineering (the first European company to have joined the Corporate Ambassadro Program, within the European Chapters Cooperation – ECC of PMI®) organize this interesting seminar on the importance of the personal development of the Project Manager to have success in the profession and in the organization.
The seminar will be opened by Sergio Gerosa, President of the PMI Central Italy Chapter, and Maria Cristina Barbero, Center of Excellence in Project Management and Corporate Ambassador of Engineering, to present the Corporate Ambassador Program and the themes of the day.
Among the speakers who will take part in this interesting event will be Paola Mosca, President of the Southern Italy PMI, Salvatore Cimmino, Elisabetta Vernoni, and Carla Cico.
We will start with Carla Cico who will talk about the "flow" process, one of the most important developments within positive psychology, conceived and elaborated by M. Csikszentmihalyi. According to Csikszentmihalyi, happiness – and success in a task or effort – is not something that "happens by chance". It is not the result of good or bad luck, or of random events. It is not something that money or power can buy. It does not depend on external events, but on the interpretation we give to them. The seminar explores the importance for Project Managers to "work on themselves" and on their personal development when the situations to be faced present seemingly insurmountable difficulties and when there is a sense of impossibility to succeed.
With Elisabetta Vernoni we will then explore the new frontiers of personal development. With Paola Mosca we will see a practical application of personal development on the occasion of his experience in a country that is culturally very different from ours: Brazil. Finally, with Salvatore Cimmino we will tackle the issue of work and disability, where disability resides in society and not in the person: when society creates obstacles to the normal daily activities, the distorted concept of disability is envisaged in the community as it originated, , from the context and not from the person.
We want to offer a moment of reflection that combines the basic theory with the story of lived experiences and leaves us with food for thought for our personal growth.
We hope many of you will come!