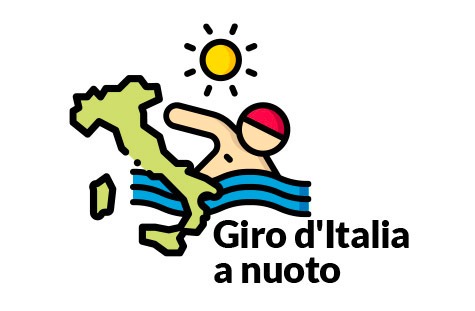 Giro d'Italia swimming, a dreamer's challenge for a solidarity society.
by Maria Teresa Pellicori
COMUNICARE MAGAZINE
THE PROJECT
"The pandemic taught us the value of free public health, of investing in scientific research and of building a cooperative, supportive, responsible and ecological society". Salvatore Cimmino, with his visionary project "Swimming in the sea of ​​the globe" gives voice to this push. We are talking about a 55-year-old man who at 15 undergoes a severe leg amputation for an osteosarcoma. A "late" athlete, as he defines himself, who starts swimming under medical advice and who instead of deriving an individual benefit from it, transforms sport into a vehicle of culture. The '' Giro d'Italia swimming 2021 '' project – part of the "Swimming in the world's seas" initiative – involves a 182-day "tour" at sea, from Ventimiglia to Trieste.
Cimmino will swim 3365 km, from April to October 2021. An incredible feat to denounce myopia towards the condition of disability and delays of the Peba, the plans to eliminate architectural barriers ".
THE INTERVIEW
How was this project born?
I imagined the project during the lockdown due to the Covid-19 pandemic, inspired by the enormous difficulties experienced by people with disabilities and their families across the country.
The fragility of these people, and the families involved in their daily care, has greatly amplified the social and health effects of the epidemic.
During this complicated and unexpected situation, politics has not been able to address the specificities of this world, leaving social cooperatives and voluntary organizations without indications regarding an intervention strategy capable of responding, with appropriate tools, to new challenges, thus exacerbating the isolation of families already heavily tried by pain. In fact, and it is not easy to say, fundamental rights enshrined in the Constitution have often been violated, such as the right to health, freedom of care, education.
It is in the context of these principles that I thought, hoping to be able to achieve it next year, on the project "The Giro d'Italia swimming 2021, for an increasingly inclusive Italy", which should take place from Ventimiglia to Trieste, following then 3,365 km in 182 stages. 182 Municipalities will be involved with which, starting from the sharing of the principles contained in the United Nations Convention on the Rights of Persons with Disabilities, I hope to discuss the implementation of the PEBA, the plan to eliminate architectural barriers, already adopted by several Italian municipalities.
What was your first venture at sea and when did you understand that swimming could become a mission to carry on a personal battle that has turned into a social commitment and to report delays in an important area such as that of disability?
My first swim crossing, which I will never forget, was on July 15, 2006, when I swam for 24 km: from Capri (Lido delle Ondine) to Sorrento (Peter Beach).
It was the first time that I felt the sensation of having built, or at least having tried, a bridge, a contact between the world of disability and civil society, responding to a need, almost an urgency, that I now felt inside of me for some time. I started this adventure, which then took me around the world, precisely because I was convinced of the importance of sharing: only by making known the difficulties that we people with disabilities experience every day, only by raising awareness, is it possible to promote an accessible world for everyone. I am convinced that disability exists in society and not in the person. I believe it is important to promote an idea of ​​a company that takes charge of the other and that pushes each one to field their skills with generosity and a spirit of solidarity. Over the years I have learned that hospitality and solidarity really exist: in all the places where I have been I have met wonderful people engaged in important projects that have always welcomed my initiatives with great enthusiasm and positivity and also among local institutions the desire to listen and share has never been lacking.
What values ​​do you carry on by swimming? You have chosen swimming as a vehicle of denunciation and to carry on the culture of hospitality and inclusion. Do you think sport in general is an appropriate tool for social battles?
Courage and trust. The courage to denounce and the trust in being listened to. We need to believe in the people who are close to us and then, of course, we must be able to see people beyond the disability and also beyond the skills they are able to express. We must learn to look within ourselves and to look inside others, in an exercise of empathy and welcome. Swimming has a meaning for me that goes far beyond the athletic aspect and physical well-being. Swimming has allowed me to get closer to many people with disabilities who, as has happened to me for several years, cannot see beyond their physical impediment and from this they allow themselves to be completely defined and conditioned. Swimming is the tool that I have adopted to make everyone, able and disabled people, understand that each of us contains a world full of meanings and values ​​and I fight simply because everyone is allowed the fullest expression of oneself, one's attitudes, desires and hopes. The world of sport has welcomed and listened to me and I believe that, beyond competition, this is its fundamental function: hospitality, sharing, solidarity. Sport allows comparison, with others and with themselves, the sharing of a goal, solidarity in achieving it and above all, and for all these reasons, it represents a powerful tool for social integration. I have great gratitude to all the sports associations that have translated my dreams into reality, starting from the Aniene Rowing Club which first, with a gesture of great trust, believed in me.
The then President of the Republic Giorgio Napolitano rewarded you with an official medal for your business, it must have been exciting to receive such recognition. Tell us about that day.
Actually I received the acknowledgment by post !! Unfortunately I have never personally known the President, and of course I would have been more than honored but it was still an extraordinary, exciting and absolutely unexpected fact. I have never been alone over the years, I have always shared every initiative with generous and supportive people and the support of the highest office in the state has made us feel even stronger and more motivated.
Maria Teresa Pellicori
COMUNICARE MAGAZINE editing