Friendship, ( 2nd leg swimming in the seas of the globe )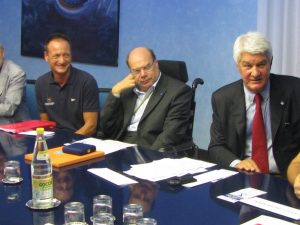 September 17th press conference
From left to right: Giuseppe Donno, Salvatore Cimmino, Vladimir Kosic, Sergio Lupieri
During the last four days, (September 17th to September 20th, 2010) in Trieste, I made an unforgettable experience: the press conference of Friday 17th was packed of journalists and common people. A great relief was given to the event from both TV and newspapers; all my supporters like Antonello Manetti Circolo Canottieri Aniene Director, and fellow member Mario Adiutori and my trainer Filippo Tassara were present and also the whole Regional Council of Friuli Venezia Giulia presided by the Health and Social Policies Councillor Vladimir Kosic and moreover, the representatives of the Provincial Council of Trieste presided by the Sports Councillor Ennio Tommasini, the Carabinieri Skin-divers unit presided by the Officer Renato Basso and Associations like Panathlon,Triestina Swimming and the Pullino Circolo Canottieri with whom my Circolo Canottieri Aniene shared the bronze medal, with the coxless composed of stroke Antonio Ghirardello, Francesco Cossu, Antonio Garzoni Provenzali and Giliante Deste coming from Pullino, at the los Angeles Olympic Games in the 1932. The wind bora didn't allow me swimming on Saturday 14th and running the marathon on Sunday 19th too, that indeed was runned on a half reduced itinerary: this situation didn't discourage the athletes that battled until the winning post.
September 19th
Running marathon start
Finally, on Monday morning I plunged and swam in 2h59′ for achieving 12,5 km that separate Muggia from Capodistria, where all the primary schools of the town were waiting for me all together with the local authority representatives also with Tv Capodistria editorial office who all together made a cornice for a friendship moment, of vicinity and solidarity that I will never forget.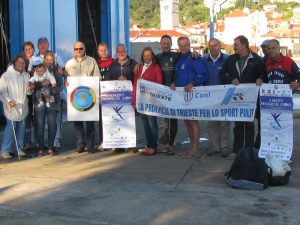 September 20th
Just before crossing
The most intense moment was when I answered with love to all children questions, who gave me gifts that they took of from themselves. Thanks to this moment, we will be united for ever.
September 20th
Celebrated by children
Thus, in the afternoon I met the students by the Collegio del Mondo Unito, representatives of more than 85 countries, like Africa, whole America, Asia to Oceania, and with them and Julius Krajnak headmaster of the Collegio and supporter of the meeting, I experienced a overall and intense moment; with them we took a meeting in Canada, probably for July 2011, for a stage of the swimming tour around the world organized by their Seat of Vancouver.
Delighted
The driving force behind all my projects has always been, and I hope will continue to be, Circolo Canottieri Aniene which, together with the Fondazione Roma has allowed dreams and ideas to become reality.
Affectionately,
Salvatore Cimmino