Barcolana 101010 – Sea festival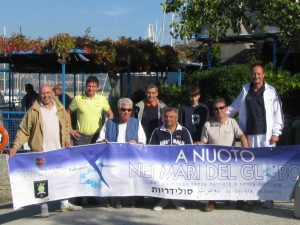 (Standing up): Claudio Bernich, Gianluca Prisco, Pippo Castiglia
and Salvatore Cimmino; (Seated): Sergio Lupieri, Roberto Polli
and Roberto Bernich
42nd edition of the Barcolana, the date appears as a perfect combination 10 10 10, and it is my first time on a sailing boat, an extraordinary occasion to share with my son Alessandro. I saw his eyes pass rapidly from enthusiasm to curiosity, from excitement to surprise.
My thoughts are running but in words I find it difficult to describe what, in all probability, is the most beautiful sea festival of its kind.
So much suspense in seeing 2000 sailing boats, a kaleidoscope of colour ready to move at the firing of the starting canon. The wait, with adrenaline levels rising: Roberto Bernich, our grinder, the one who regulates the sails, kept time. His voice seemed to come directly from his heart : 7 minutes! 5 minutes! My voice joined his 2 minutes! Then Claudio, Roberto's brother, and Pippo Pastiglia, our crew in unison: 1 minute! Folowed by our helmsman and tactician, Roberto Polli: 30 seconds! So from our helm Gianluca Prisco: 10 seconds! And finally our capitain Sergio Lupieri 5 seconds! Then the shot which frees us from the unnerving wait, and we can breathe at last. The show begins: thousands of sails all travelling in the same direction like a single swarm moved by the Borina. What an incredibile sight.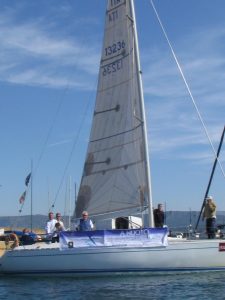 BEATRIX, ( Sergio Lupieri's boat )
In the end, our boat, Beatrix, came 257th overall and 31st in its class, a respectable result which made the team proud, and they were rightly comforted with a prize from their friends from Trieste – a warm "Jota" (bean soup) prepared by Robertos wife, a good glass of home produced wine and finally those cakes which the people of Trieste enjoy so much. Dead mens beans!
I'll book now ready for next year. Thanks so much to all my friends from Trieste!!!
Sincerely
Salvatore Cmmino